Friday, October 31, 2008
Updates and other random Rush stuff
Happy Halloween! I threw together a quick Halloween theme for the site this morning. All the red is now orange and we have Geddy, the Wicked Witch of the West up in the right corner. I'm not sure of the origins of this photoshopped image but I've always thought it was funny. The Rush Starman Pumpkin pic is courtesy reader Joy P. Plus here's another Rush-inspired jack-o-lantern which was posted over at Wired.com (thanks byteme). Cool, huh? Now ... onto the updates.
Other than the release of a teaser video of YYZ from the Snakes & Arrows DVD earlier this week, there hasn't been much news from the Rush camp as of late. Things have been eerily quiet. The calm before the storm perhaps? Hopefully they are busy mulling over the details of putting together a tour in 2009. I've also heard a rumor that the boys may be so quiet because they are working; i.e. recording a song or two. Which is certainly plausible based on earlier rumors and Alex Lifeson's musings. Now to put on my speculation hat... Let's suppose the band is still seriously considering touring next year but would like some new material to tour on. Suppose they decided to push the release of Retrospective 3 waaaay out to the end of January just to give them time to add a couple of new songs to it. This would boost sales and then they could use this release to have something to tour on. Maybe. We'll see. Again - this is complete speculation on my part. Ignore it or feel free to add some speculation of your own in the comments.
On Monday we all were treated to a huge Rush reference on NBC's Chuck. For all the details see this post and to watch the complete episode online go here.
Wednesday was the 30th anniversary of the release of Hemispheres as well as the 27th anniversary of Exit ... Stage Left and the 23rd anniversary of Power Windows. Certainly a busy day in Rush history. In celebration of this momentous event, in my current poll I'm asking everyone whether their first copy of Hemispheres was on vinyl, 8-track, cassette tape or CD. So if you haven't already, please take the poll and let us know.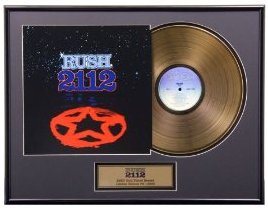 On Tuesday we learned that 2112 will be the first in a series of officially licensed, limited edition framed gold records commemorating classic Rush albums to be made available by Photo File. Limited to an edition of only 2,500, this framed and matted depiction of the 2112 album includes a 24KT gold-plated record and an image of the album cover along with an individually numbered text plate. Framed dimensions are 18x24 inches and the manufacturer's suggested retail price is $239. To order go here.
Michael of NeilPeartDrumsticks.com has posted over 100 images from the Buddy Rich Memorial Concert on his MySpace page. You can check them out here. Thanks to Asif K for the heads up.
Neel Kashkari graces the pages of Time magazine this week. Neel is the man who the Treasury Department has chosen to lead the US's financial bailout. I mentioned back in this post that he was an apparent Rush fan - at least judging by his highschool yearbook. In Time this week they picture Neel with the following caption:
Neel Kashkari oversees $700 billion U.S. bailout plan, still embarassed by Rush quotes on high school yearbook page.
Thanks to Mike K for the heads up and the scan.
Soundtweaker alerted me to the fact that MTV now has beta-launched a site called MTVMusic where you can watch just about any music video including 15 Rush videos. You can find a more comprehensive list right here on RIAB in the music videos section.
Here's a Rush-inspired air-brushed goalie mask that reader RushFan21 located at EyeCandyAir.com. Cool.
Here's an amusing blog post by writer Jeffrey Liles where he reminisces about a Rush Roll The Bones era review he wrote earlier in his career.

A reminder that just 1 week from tomorrow on Saturday, November 8th Detroit-based prog-rockers Tiles will be playing in my neck of the woods at the Phantasy Concert Club in Lakewood, OH. Tiles' most recent album Fly Paper has a number of Rush connections. Alex Lifeson plays on the track Sacred and Mundane, the album was produced by Terry Brown, and Hugh Syme did the album art in addition to playing keyboards on 2 tracks. I interviewed guitarist Chris Herin and Terry Brown regarding the album back in February. I will be at the show and if you are in the Cleveland area I hope you can make it too. If you can come please let me know and I should be able to hook you up with some free swag at the show! Cleveland State radio station WCSB 89.3 is promoting the show and will be playing songs from Tiles and the supporting bands on DJ Keith Miller's radio show which airs Wednesdays from 1-3PM. They'll also be doing some ticket giveaways too.

And as another reminder, next Saturday, November 8th at 7PM photographer and Rush fan John Kane will be exhibiting a collection of his Rush concert photographs at the Front Street Coffee House in Salem, MA. The exhibit is titled Workin' Them Angels: Rush through the Camera Eye and you can RSVP at rushexhibit@gmail.com. There will also be an after party concert with the premier Rush cover band, Lotus Land, at the Dodge Street Bar and Grill across the street from the show. In addition, Donna Halper (the person who discovered Rush) will be a guest speaker and conduct a brief Q&A. To commemorate the event, John produced this poster featuring one of his fine art paintings of Rush. The poster, a limited edition of 60, will be sold at the show for $10 at the opening. He has also created a Cafe Press store where you can purchase both larger 16x20" prints and t-shirts of the image for $20 each. The event will also include a $5 raffle of some of John's photographs of Rush, and a t-shirt. The photos will be on exhibit for the entire month of November.
Supernatural is an American fictional TV show dealing with paranormal investigations. The 2 main characters (brothers and paranormal investigators) typically conduct their investigations posing as federal agents with the names of famous people. In last night's episode (Season 4, Episode 7: It's The Great Pumpkin, Sam Winchester) they introduce themselves as agent Geddy and agent Lee. You can see it for yourself in this YouTube video in the last few seconds of the clip. Thanks to Lerxst Is God for the heads up.
Have a safe and happy Halloween and weekend everyone!