Monday, April 30, 2007
Updates and other random Rush stuff
UPDATE - 4/30@11:11PM: I'd mentioned that I would have another feature for registered users up probably tomorrow. Well, I put it up a little early. Just look over to your right about the calendar and you'll see the new Rush is a Band poll/survey. The first question is How will you be getting or how did you get your copy of Snakes & Arrows? I'll be updating the question about every week or so. Have fun!
UPDATE - 4/30@10:15PM: The Rush Backstage Club seems to have screwed up earlier today and had a Feedback lithograph up (like I posted below) as their next prize when they'd meant to have a Snakes & Arrows one up. I thought that seemed weird. Anyways, they've corrected the page. Here's the correct contest:
This 18" X 24" lithograph is produced on high quality, heavy art paper. This limited edition litho is number 394/500. This is a big-time collector's item! The winner of this contest will be announced on May 15th. Our system only accepts one entry per email address. Good luck!
Thanks to Joe C for the heads up.
----- snip -----
Less than one day left until the US release of Snakes & Arrows! For those lucky fans across the pond it's already available. What a great time to be a Rush fan! I thought I'd take care of some random Rush news that I've been meaning to post before the frenzy hits tomorrow.
On the website front, I've hit over 1000 registered users! Wow. I will also have another site feature for registered users up soon - probably tomorrow. I've just sent out another batch of RUSH IS A BAND bumper stickers. To get one of your own just donate at least $3 to the site! Thanks to everyone who's donated. I appreciate it.
In case you missed the multiple Rush radio specials that played over the weekend, they are available for your listening pleasure (minus songs and commercials) over in this post. And for all of you XM Radio subscribers, a 28-hour Rush special called The Rush Hours will air tonight starting at midnight.
Registration for RushCon 7 is now open! RushCon 7 will be held Friday, Sept. 21st through Sunday, Sept. 23rd at the Days Inn Toronto with special events on Wednesday, Sept. 19 and Thursday, Sept. 20. It should be an especially fun time this year since Rush will be in town. I went last year and had a blast and will be attending this year as well.
After 2 rounds of meet and greet pass giveaways last month, there's a new contest up at the the Rush Backstage Club. This one is for an 18"x24" limited edition Feedback lithograph. You can enter here. From the site:
This 18" X 24" lithograph is produced on high quality, heavy art paper. The psychedelic colors of the Feedback album look great on any wall. There were only 500 of these produced and this is number 486. This is a big-time collector's item! The winner of this contest will be announced on May 15th. Our system only accepts one entry per email address. Good luck!
Thanks to readers AFarCryfromFBN and figerade for the heads up.
There's some good news regarding the charting of Far Cry. After several weeks stuck at #3 it has finally broken into the #2 spot on the MediaBase Mainstream Rock Chart!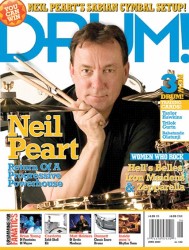 About a month ago I reported that Neil Peart would be on the cover of the June 2007 issue of DRUM! Magazine. The issue is now on newstands will be on newstands soon and Michael from Neil Peart Drumsticks supplied me with a cover scan. Michael is also featured in a short article in the issue! As I reported a couple days ago, Michael is running a very cool contest giveaway currently over on his website here.
Reader Sean pointed me to this article at ZioShow.com where they sit down with front-of-house engineer Brad Madix who will be going on tour with Rush. He talks about how they'll be using Metric Halo's SpectraFoo software on the tour. Madix has been working with Rush since back on the Roll the Bones tour.
A few weeks ago I reported how Rush would be releasing all 3 of their concert DVDs individually on May 1st (tomorrow). There were several rumors about bonus tracks based on false information listed by some online retailers. Power Windows is now reporting that the individual DVDs will be identical to those included on the Replay x 3 box set - no bonuses.
Power Windows also has reported that the DJ Z-Trip remix of Tom Sawyer, originally from the Small Soldiers soundtrack, will be one of several remixes found on the soundtrack for the All-Pro Football 2K8 videogame which releases on June 30th. You can listen to the track on the game's official website here.
jman pointed me to this cool little Rush quiz which is featured on the CBC homepage. The quiz consists of 10 fun questions and is titled Hoser Heroes: Test your knowledge of Rush.
Spindrifter located this post from the AOL Sports blog titled Geddy Lee: Rocker, Blue Jays Season Ticket Holder. The post contains a nice pic of Geddy behind home plate.
And figerade let me know that Rush's Moving Pictures came in at #73 on Rock 101's (Vancouver) Classic Rock 101 Records of All Time Countdown.
I know I've probably forgotten something but that's it for now!