Wednesday, October 6, 2004
2112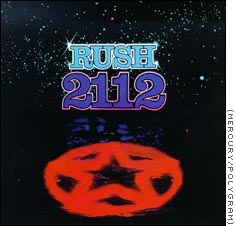 [Rock of Ages: When prog-rock ruled]
The Santa Cruz Sentinel discusses prog-rock and specifically my favorite song of all time, Rush's 2112.
... The music of "2112" was, and is today, quite amazing. To those of you who haven't heard it (probably most of you), picture Jimi Hendrix sitting in with the Who playing Beethoven intensely. Only it was all being performed by three Canadians and a couple thousand watts of music gear.

The song was big (not just in length), it was bombastic, it was intense and, to many of us prog fans, it held much meaning. And like a great classical concerto, it had subtle frail interludes weaving the whole thing together into a sonic landscape you could almost touch (thanks in part to the stinky wizard bong). ...